Girts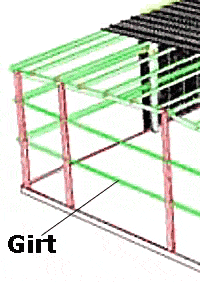 Product Description A horizontal structural member that supports vertical loads. It may consist of several pieces.
Gauge: 16,14,13,12
Depth: 4″, 6″, 8″, 10″, & 12″
Finish: Red Oxide Primer & Pre-coated galvanized
Lengths: Bay spacing up to 40′
Fasteners: Bolts
Usages:
"C" Girts are used for headers, "Z" Girts elsewhere secondary framing system to attach and support wall covering.
Limitations

Gauge, depth, spacing & wind load combinations limit girts to a maximum of 40′ bays or shorter.
Bypass Girt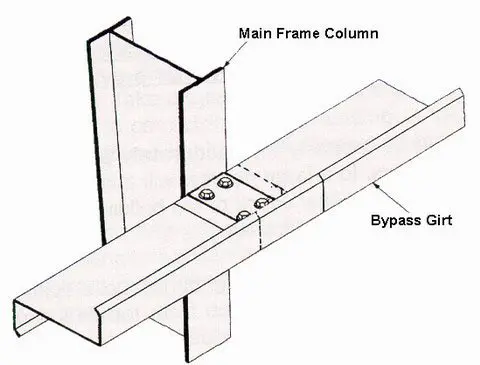 Flush Girt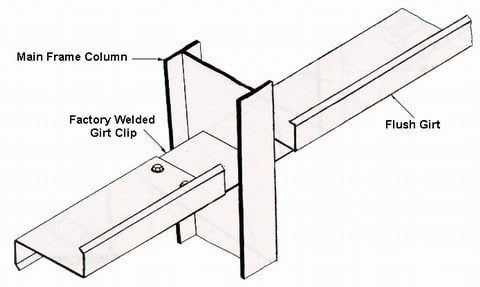 Dimensions
| Depth | Gauge |
| --- | --- |
| 4″ | 16,14,12 |
| 6″ | 16,14,12 |
| 8″ | 16,14,13,12 |
| 10″ | 14,13,12 |
| 12″ | 14,13,12 |
| Feature | Benefit |
| --- | --- |
| Girt clips welded to frame. | Quicker Erection |
| Flush girts with girt face in the same plane as column face. | Greater interior clearance, easier interior finish. |
| Combinations of size, gauge & spacing. | Optimum design and economical pricing. |
| Standard girt spacing, first girt at 7′ 3 3/4″ and maximum of 6′ there after. Other spacing available for design. | Fits doors, etc., optimal design. |
| Pre-painted, factory baked red oxide finish. | Smooth, attractive appearance, improved adherence & durability. |
| Bypass Girts | More Efficient Design |
| Low girt option available on request at 3′ 6″ | Stiffening of the wall section, and satisfying high wind conditions. |