Purlins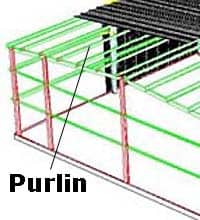 Product Description
A horizontal structural member which supports roof covering and is in the shape of a "Zee"
Gauge: 16,14,13,12
Depth: 4″, 6″, 8″, 10″, & 12″
Finishes: Red Oxide Primer & Pre-coated galvanized.
Lengths: Up to 55′
Fasteners: Bolts
Fabricated: At All Sites
Usages: Secondary member to support roof panels.
Limitations
Designed to meet specific load criteria.
Purlin to Rafter with a Flange Brace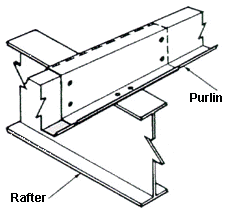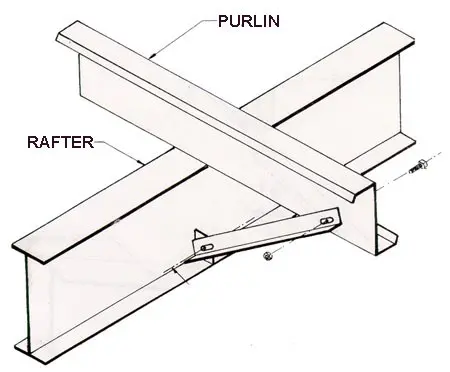 Dimensions:
Gauge
16,14,12
16,14,12
16,14,13,12
14,13,12
14,13,12
Feature
EZ purlin ?" variance in flange width & 50 degree angled stiffener lip.
Nominal purlin spacing of 5′
50+ combinations of size, gauge, spacing and lap length.
Continuous purlin lap lengths of 1′ 2 ?", 2′ 5 ?", 3′ 8 ?"
Pre-painted, factory baked red oxide finish.
Purlin clips welded to frame.
Optional Galvanized finish.
Tabbed sag angles are used with standing seam options/systems.
Easy purlin identification (triangle).
Members of LGSI
With a wider width and higher gauge zee-purlin, we can go to a longer bays up to 40′.
Benefit
Allows easy placement of purlins and easy installation and greater stability.
Economical Design
Optimum design and economical pricing.
Optimum design and economical pricing.
Smooth, attractive appearance, improved adherence & durability. Therefore, no paint sticking problems.
Rest point during erection, quicker erection, reduces purlin roll under heavy loading, & increases stiffness.
Meets specifications, greater resistance to some corrosive atmospheres.
Reduces purlin roll, increases stiffness, ease of erection, greater stability, and increased load capacity.
Ease of Erection
Meets Specifications
Longer bay buildings, can be furnished with the advantages of a cold-formed zee-purlin.