Girts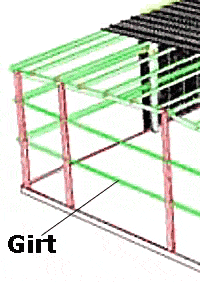 Product Description
A horizontal structural member that supports vertical loads. It may consist of several pieces.
Gauge: 16,14,13,12
Depth: 4″, 6″, 8″, 10″, & 12″
Finishes: Red Oxide Primer & Pre-coated galvanized
Lengths: Bay spacing up to 40′
Fasteners: Bolts
Usages: "C" Girts are used for headers, "Z" Girts elsewhere secondary framing system to attach and support wall covering.
Limitations
Gauge, depth, spacing & wind load combinations limit girts to a maximum of 40′ bays or shorter.
Bypass Girt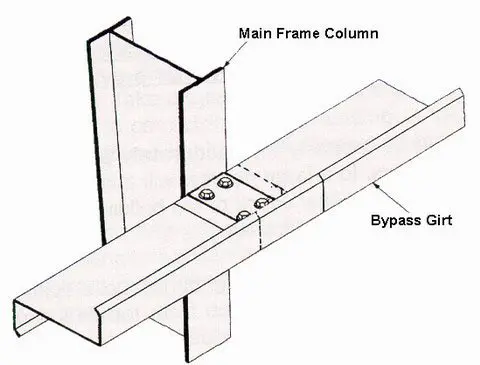 Flush Girt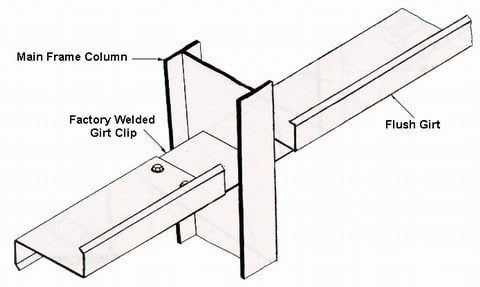 Dimensions:
Gauge
16,14,12
16,14,12
16,14,13,12
14,13,12
14,13,12
Feature
Girt clips welded to frame.
Flush girts with girt face in the same plane as column face.
Combinations of size, gauge & spacing.
Standard girt spacing, first girt at 7′ 3 3/4″ and maximum of 6′ there after. Other spacing available for design.
Pre-painted, factory baked red oxide finish.
Bypass Girts
Low girt option available on request at 3′ 6″
Benefit
Quicker Erection
Greater interior clearance, easier interior finish.
Optimum design and economical pricing.
Fits doors, etc., optimal design.
Smooth, attractive appearance, improved adherence & durability.
More Efficient Design
Stiffening of the wall section, and satisfying high wind conditions.