Weather Roof III (WRIII)

Product Description
A metal standing seam roofing product attached to sub-framing using a variety of concealed, interlocking clips that provide for minimum panel penetrations. This panel can be used on new construction as well as retro-fit on existing structures. This panel design provides a high degree of weather tightness and has been tested by independent laboratories in accordance with ASTM E283 and E331 (for air infiltration, water penetration, and wind uplift).
Gauge: 24 and 22 (by special request only)
Finishes: Galvalume and Architectural Series
Lengths: 50′ maximum is standard but longer lengths available by special request.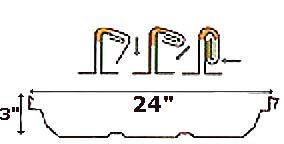 Fasteners: Concealed fastening system. The clips are available as floating or fixed. Two different clip heights are available to allow for thermal blocks.
Manufactured: Houston, Caryville, Mattoon, Rome, Salt Lake City and Atwater
Usage: New and retro fit applications.
Limitations
Recommended for roof slopes of 1/4:12 or greater.
When using the fixed clip we recommend for double slope buildings 200′ wide or less and single slope buildings 100′ wide or less. (May vary upon extreme weather conditions.)
Oil-canning is not a reason for rejection.
Feature
No panel penetration is required over the building envelope other than at the end laps, and panel ends which are connected by a compression joint.
Panel side laps arrive at the job site containing a sealant.
Optional weather tightness warranty.
Factory notched at both ends with pre-punched holes.
End laps have a 16 GA. backup plate with pre-punched holes.
High or Low Clips
UL 90
80% less exposed fasteners than traditional side lap panels and all fasteners are long life.
Panel available Royal K-70 paint system
The side lap has been tested for air infiltration and water penetration under ASTM E283 and E331 methods
Benefit
Specially designed to seal out the elements.
Contributes to the system's weather tight construction and ease of erection.
Severe weather tightness and additional customer confidence.
Field installation can commence or finish from either end of building.
Solid connection at end laps and proper fastener spacing. The pre-punched holes improve erection and ensures proper panel placement.
Accommodates variety of insulation systems including 1″ thermal spacers at the purlin.
Lower Insurance Costs
Increased Weather Tightness
20 year finish warranty
Minimal air infiltration and water penetration and acceptability among specifiers.