IPS Rockwall
Insulated Rockwall Stone-Coated TecFoam Wall Panels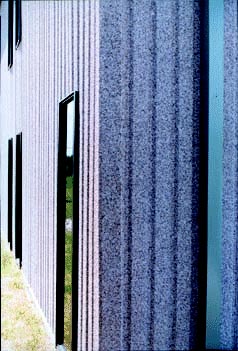 Product Description
All of IPS's wall panels are available with the Rockwall Finish system. IPS Rockwall gives you the advantage of steel wall panel construction with the durable beauty of stone aggregate. The Rockwall process bonds real stone aggregate to steel panels with a super adhesive system. A clear sealer gives the finished panel a crisp glazed appearance.
Gauges: 24 and 26
Finish: Sand Rock and Granite Rock
Lengths: Max 20′
Fasteners: Concealed with clips
Dimensions: Wide: 36″; Thick: 2″ – 4″

Manufactured at: IPS – Stafford, TX
Usage: The rockwall finish is available on all IPS Panel Profiles:
Limitations
For wall applications only.
Feature
Foam thickness of 2, 2 ?, 3, & 4″
Complete Load/ Span tables available.
Excellent test results for air leakage and water penetration through panel joint.
Good Surface burning characteristics.
Concealed fasteners with clips.
Benefit
Excellent insulating properties providing R values from 13.7 to 27.1
Allows designer to make proper use of panel span capabilities.
Confirming weather tightness in compliance with specifications.
Complies with model building codes for foam plastics.
Provides a contemporary alternative to exposed fasteners.